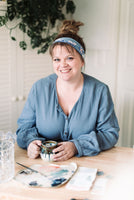 Hello, friend.
I am so glad you are here.
I have found an outlet through art that allows me to quiet my minds and find some calm in the chaos of life. Collecting art allows a us to create a space in which we can settle ourselves. Engaging in a creative process allows time for mental reset.  Personally, I do both.
For collectors, I offer originals, prints, and products featuring my paintings to help you enrich your space and serve as a visual reminder to pause throughout the day.  
For creators, check out the Nfinity Arts by Fibonacci section to add something special to your brush collection or the Watercolor Paper section to take the frustration out of finding your perfect paper.
If you haven't already done so, I highly recommend starting a sketchbook. It is creating art just for yourself, with no pressure to create masterpieces. My sketchbook is where I explore and play and feed my creativity. You can find my love of books & painting combined in the Sketchbooks that I hand stitch.
If you are in Colorado, check out The Colony, my communal art studio in downtown Colorado Springs. We have day passes & monthly memberships, and it's where I'll be teaching classes moving forward. I'd love to see you there sometime!
No matter what you find here to love, I hope it encourages you to carve out time in your days to breathe and escape the stress of everyday life.
Peace in painting,
Niki
What people are saying
I absolutely love this round #8 brush! I have been unable to order another sable brush like the one I wore out, but htis brush is everything I was looking for! It is perfect for minute detail work, yet holds enough watercolor paint to complete a section.

Cheryl
A great way to try out wonderful watercolor papers without breaking the bank: a sample pack beautifully prepared.

Mirtes
I still love your brush the most. It feels like a magic wand, and it always does exactly what I want.

Jen
They are so beautiful! And so well crafted! I truly love the brushes and how it applies to the paper.

Quynh
I still am LOVING the brushes. It's truly one of my favorite round brushes. The pointy tip is my go-to when I need a fine line (I choose it over my tiny brushes because I love how precise it is!)

Priya
I think this brush and I will have a very special relationship!! From super fine lines to broad stokes, this brush can do it all. How did I go this long without a dagger brush??"

Julia
I love them! I love the way the fan brush gives a nice textural element to pieces, especially grass and such, and that sword brush is so much fun to play with!

Maddy
Got here super quick even with covid holiday shipping! Love slowly learning techniques w/sword brush.

Natalie