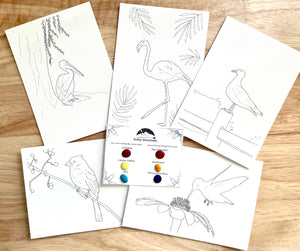 This postcard kit comes with:
five designs pre-printed on 100% cotton, vegan friendly watercolor postcards from etchr and
a double primary six-dot paint card from Colorado paint maker Ruby Mountain Paint Co. The warm and cool primary sets will allow you to mix a plethora of colors, muted and bright, as well as natural looking neutrals. 
This kit is perfect for days when you want to paint but don't have energy to figure out WHAT to paint. Don't get distracted scrolling social media and Pinterest for inspiration! Just pull out a postcard and get going. Let your creativity flow as you mix your favorite colors with the handmade paint that's included. 
When you are finished painting, keep the postcard for yourself or pop a stamp on it and send it off to brighten someone else's day. 
New designs for postcard kits will be released monthly!
Pro Tip: As is a common practice with watercolor paper, it is recommended that you tape the edges of these postcards down to a board or your desk/table using washi or masking tape before you begin painting. Wait until the painting is dry to remove the tape. This will help the paper dry flat instead of warped if you use a lot of water.